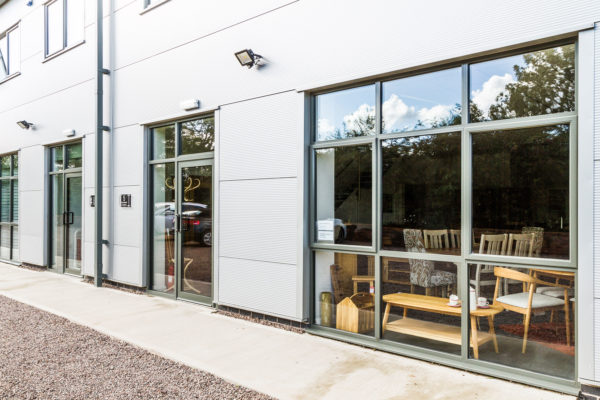 ---
As the isolating effects of the pandemic have begun to slowly ease up more and more, physical shopping has started to return to normalcy. As such, many clients that deal with physical customers such as restaurants, shops or even want to put their products will be back with a vengeance. Are you prepared for this incoming influx? One way we would recommend our trade clients to prepare is to stock up on what will be needed to avoid increased prices and scarce stock. Because of this, we predict that one product of ours that will become in demand is our commercial aluminium shop front systems. An economical solution for ground floor treatments shop fronts and commercial display windows. Here at Sternfenster Window Systems, we want to provide a commercial improvement solution that will outshine the rest without having to worry about egregious costs or slow lead times.
How Can Your Clients Benefit From Shop Fronts?
Clientele that offers physical products that often time involve dimensions, hardware, and an array of specifications will often want to be inspected by potential customers. Be home improvement solutions, vehicles, tools or furniture, being able to physically gauge products through ergonomic means puts clients at a distinctive advantage against abstract previews that only offer images or videos. This can be achieved with our screen modules. Offer a memorable impression for both clients and their customers as you offer the means to preview their products whilst offering security simultaneously—an economical solution for low rise screening with stylish sightlines of 50mm.
Our commercial aluminium shop fronts are also designed with security in mind. Offer your physical sales clientele a means to protect their products with a heavy duty barrier that will both present and protect their brand. Our aluminium shop front system offers a secure ground floor treatment, including severe duty doors and highly robust frames. We offer a wide range of profiles to suit any high traffic client, including features such as concealed overhead rebated, automated sliding and swing doors. We also offer security hardware for our commercial aluminium shop front systems, such as electric automation and commercial locks, which are supplied as standard. Our range of reinforced door profiles is available with a variety of anti-trap features. Perfect for heavy traffic in commercial buildings such as high street shops, office buildings, health clubs and much more. Clientele that deals with physical customers will benefit from a shop front that will last against anything, be it continuous traffic or forceful entry. It's got you covered.
Allow for total flexibility for your clientele as our aluminium commercial shop front systems are weatherproof. Come rain or shine; our shop fronts will allow your clients to continue advertising, selling, and protecting their brand, products, and staff regardless of whatever the British weather decides to throw at them. Our aluminium commercial shop front systems will easily prevail, whether heavy rain, snow, wind, or hail.
Customisable and Versatile
Every client is different, and that should be represented appropriately through our commercial aluminium shop front systems. Available in a comprehensive range of ancillary screening profiles, which includes fixed couplers, variable angle corner posts and an extensive range of painted colour finishes, all of which are to qualicoat standard. Offer a commercial improvement solution that will best represent your client's brand and their product, as they are capable of serving different needs for any type of client. Offer a product that can act as a worthwhile application for shopping centres, entrance halls and foyers, showrooms and swing doors.
Shopfronts will be needed more than ever as businesses return to equilibrium after this long period of separation and isolation. Help your clientele achieve the very best in physical commerce as you offer them our commercial aluminium shop front systems. Ensure your clients that you can provide the means to protect, optimise and advertise their brand in one fell swoop.
To find out more about how we can help your clients, why not contact us or get a free online quote?
---