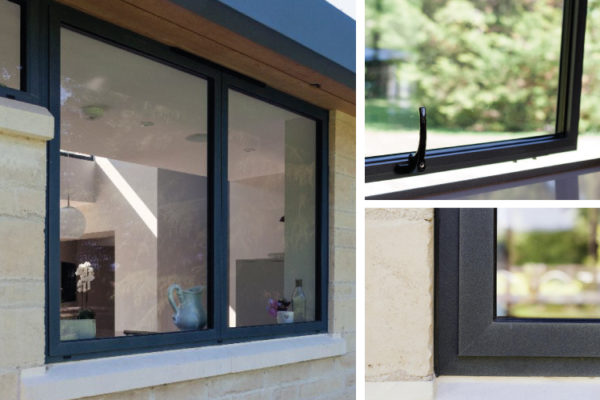 ---
From January 2020, Sternfenster are launching a brand new product! The latest Alitherm 300 Window improves on the aluminium products of the past to create an impressive, stunning and practical window. With a wide variety of styles, finishes and accessories, the new Alitherm 300 can suit any need.
The slimline and modern look of aluminium windows is becoming increasingly popular with homeowners. The Alitherm 300 certainly provides this desirable, contemporary appearance due to boasting a slender frame of only 70mm! Attract and satisfy more customers by offering this sought-after style.
Not only will the new Alitherm 300 add kerb appeal to any home, but it is also highly secure. The frame features bi-directional espagnolette multipoint locking to stop intruders in their tracks. The Alitherm 300 Window also has an optional upgrade to PAS24 standards! Sell your customers peace of mind.
Offer your customers improved comfort with the fantastic Alitherm 300 Window! Due to the innovative design, the window is highly weatherproof. It boasts permeability ratings of 600Pa for air, 1200Pa for water and 2400Pa for wind. This means homeowners can enjoy warmer, more comfortable rooms in all weather.
Aluminium windows aren't just beneficial for homeowners; they are also a great option for installers. Aluminium replicates the slim look of steel but is far more lightweight, making it easier to transport and fit. It is also more durable and longer lasting than uPVC, meaning your customers will stay satisfied for many years.
If you'd like to enjoy even more benefits from Sternfenster, why not become part of the Approved Installer Network? Get in touch today to find out more! You can either email Sternfenster on sales@sternfenster.co.uk or call them directly on 01522 512 525. One of the team will be more than happy to help!
---