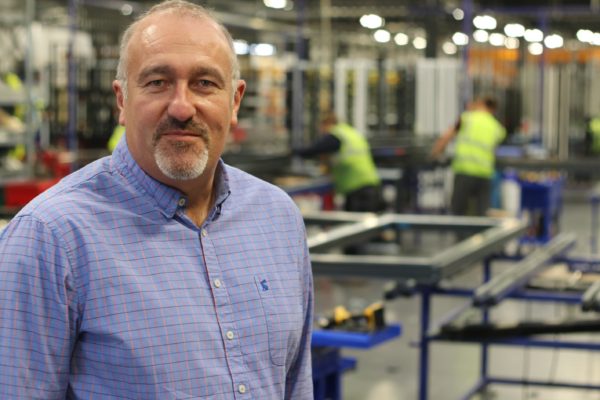 Published 13th July 2021 by Sternfenster Categories:
Updates
---
Mike Parczuk explains more about new initiatives that have been introduced to improve the mental health and wellbeing of staff, as part a vision to achieve Investors in People Gold status.
Q: Can you tell us more about your commitment to Investors In People?
Mike Parczuk (MP): It might come across as cliched to say that our people are the most important asset we have at Sternfenster, but it's true. We have an outstanding workforce, I've learnt that they work very well as a team and I'm especially proud of their performance over the last 12 months or so, given the conditions that we have experienced.
It's meant that we have been able to overcome some big challenges, their efforts have served to demonstrate that we are very robust as an organisation. But I've also realised that we could be doing a lot more for our staff, in order that they are properly recognised for the contribution they make to the company and to give them more of an opportunity to develop within the business.
By committing to the Investors In People accreditation scheme we are able to put the processes in place to do just that.
Q: A company survey is an integral part of the Investors In People accreditation process – how did Sternfenster perform?
MP: Everyone in the company was asked to contribute to the survey, including everyone on the factory floor, to our sales teams, accounts department and delivery teams. The feedback was really encouraging.
The results showed that a very high proportion of our employees feel that we have clear values; 90% feel that they are trusted to make decisions in line with their role and 91% said that their role enables them to work well with others.
We were upgraded from Bronze to Silver Investors In People status, which shows that we have the right principles in place and that we are actively encouraging them to be applied throughout the company. It's a good result, we scored higher than the industry standard for manufacturers across a range of criteria.
But there's clearly room for improvement. Our company vision is to achieve Gold Investors in People Status and that means we need to do more to consistently recognise the efforts of our staff.
The levels of stress that we have operated under for the last 12 months or so, have also highlighted that we should be doing more to protect their mental health. I don't need to remind anyone of the demands that have been placed on the industry but it's sometimes easy to forget that Covid restrictions outside of work have added to that pressure.
It's our responsibility to do everything we can to help our staff manage all that, to safeguard their wellbeing. We now have a number of new initiatives in place that are designed to do just that.
Q: Can you tell us more about these?
MP: All Sternfenster employees can now access Perkbox, which is an online platform that gives them access to exclusive offers and discounts at shops and restaurants, but it also allows them to acknowledge the achievements of other team members.
That can be something as simple as a special occasion, a work anniversary or birthday but it also creates the opportunity for individuals to be recognised for doing a great job.
The Perkbox site also includes a Culture Hub, with links to company newsletters, as well as a new Employee Assistance Program. This includes a free, confidential helpline with round the clock access to trained counsellors and support specialists, guaranteed access to private, 24-hour GP services, plus financial and legal assistance and a range of other services that offer dedicated support for stress, and anxiety.
Q: Do you think the industry could be doing more to address mental health?
MP: Absolutely. The industry often concentrates on day-to-day topics that are affecting business, we hear a lot about material supply and price increases – but it's easy to forget about the impact of mental health issues. According to the government's Health and Safety Executive, 828,000 people suffered from work related stress in 2020.
Sternfenster is a family company, with family values and we've always prioritised our staff, but through Investors In People, we can do more to make sure they are recognised and rewarded for the contribution they make to the company. A big part of that is to make sure they are as healthy and happy as possible. It's a positive step forward to improving our productivity but it will also translate to a much better service for our customers as well.
---