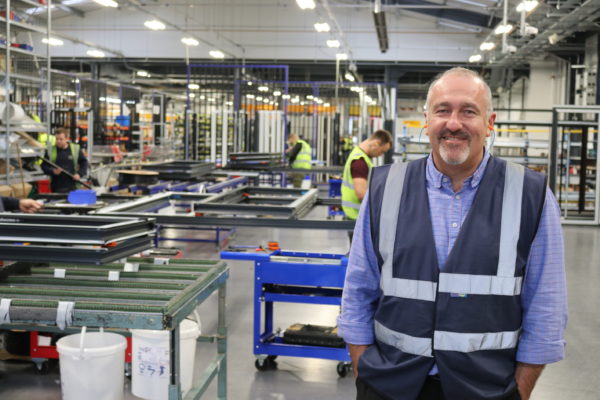 Published 14th July 2021 by Sternfenster Categories:
Updates
---
It's great that everyone is busy but we face a number of challenges – and I don't only mean those impacting the supply chain.
The net effect of increased demand and disruption is that the cost of each retail job has gone up. It's not only that the price increases earlier this summer are now filtering through in the price installers pay for product – but also that disruption adds cost. 
We're working really hard to get things out the door to our customers but we hold our hands up, we aren't perfect, and sometimes stuff doesn't get to where it needs to be, when it needs to be there. That could be because we've been let down by our suppliers, because we lost drivers to a positive COVID test, or just because something went wrong and we cocked-up!
And we understand that if we can't ship product it has an impact on our customers. It could be a delay on final payment, it could mean sending someone back out to finish a job or it could mean rescheduling an entire programme – we do understand, and we do really try to avoid it. 
We need to get it right and by and large we do (apologies in advance to any of our customers, if for any reason and by some quirk of fate that you're reading this now your delivery this morning has been delayed!).
Installers, must however, also factor in risk of disruption into their pricing models. We, other fabricators, and I believe systems companies and glass manufacturers, are doing our best but if the last year and COVID has taught us anything, it's that sometimes that isn't enough. If our lorry drivers are pinged by the NHS app, if they go down do with COVID, there is only so much we can do.
If you're operating on a low margin as an installer, even the minimum level of disruption leaves you exposed. It impacts on your profitability on each job and on your cashflow. 
It's the last thing I (and I'm sure my competitors) want to be responsible for as a fabricator, we don't want to let people down – but it has happened and while we'll do our very best to avoid it, it's probably going to happen again. 
You minimise the impact of that as an installer by making sure that you build sufficient margin into your pricing model. 
If that's not enough to convince installers to increase their prices, perhaps this will do it? There will be more price increases. It's going to happen.
Demand from home improvement remains high. Housebuilding is also incredibly busy as developers attempt to cash in on demand for new homes. And it's not only our sector that is placing demand on steel, on glass and on polymer.  Many others are too, with material price inflation forecast to continue through into 2022. 
That points to more price increases going into the autumn – and that's going to hit installers like it's going to hit everyone else. 
The size of retail forward order books compounds the challenge. If you're placing orders 12-weeks out, that's a lot of time for prices to change – and it's going to do one thing, eat into your margin. 
It's another reason why you need to build more margin in at point of retail. 
The starting point has to be the cost of the job on a good day, when you're not having to deal with disruption or price increases. What does it cost you to get a job fitted, what was the purchase cost, what other overheads, lead generation, fleet, administration do you need to work in?
In short what is the cost of non-conformance to your business? How much does it cost you if things don't go to plan? Our suppliers build those costs into their models, we build it into ours but in our experience, many retailers don't. 
Once you understand the cost of non-conformance need to be building it into your model as an additional percentage to accommodate product price inflation by the time you fit it and a bit extra for those unexpected challenges. 
If you lose out on a job having done that because the homeowner doesn't want to pay it, then that was business to walk away from, and there's plenty more right around the corner. 
The final thing I'd add is that accurate bookkeeping is essential, not a nice to have. It should be the cornerstone of every business, no matter how small, too many ignore it at their peril and it will cost them dearly in the long run.
We've supported a number of our customers in restructuring their pricing models, we also offer our customers access to a number of tools, for example our customer CRM system Easy Admin, which helps them to track individual job profitability. 
This isn't meant as a moan, it's not meant as a gripe, or that we have all the answers. But we are in retail and we see what is happening. It's a head's up. Make time, however busy you are, to review your profitability, because you need to make sure that the margin you think you're making you actually are, and to increase it to accommodate future price increases and in all likelihood, some additional disruption. 
---