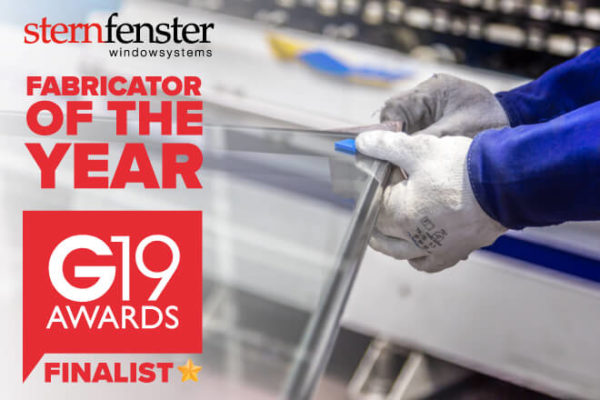 Published 18th September 2019 by Sternfenster Categories:
Updates
---
⭐Shortlisted: G19 Fabricator of the Year!🍾
Here at Sternfenster, we have been nominated for Fabricator of the Year at the G19 Awards!
At Sternfenster, we firmly believe the only way to progress in business – especially in uncertain times – is to invest in future growth. For us, that means investing in our people, products, processes and service. While ensuring every new initiative and improvement has one goal: to help our customers build their business.
We are very proud to be a finalist for such a prestigious award. It is an incredible achievement for our family-run business, and a real testament to the work our team have put in throughout the last 40 years. The awards take place on November 29th 2019, at the London Hilton Hotel.
The Fabricator of the Year Award is open to all uPVC, Aluminium and Timber fabricators throughout the UK. While the quantity of windows produced at the factories is essential, the main focus of the awards is the quality of the product leaving the warehouse, and how your business has grown.
Check out our factory!
We pride ourselves on the high-quality products that leave our state of the art Lincoln factory. Supplying high-quality windows and doors to installers and homeowners across the country, ensuring only the very best, and durable products leave our factory. We also have an inhouse paint spraying facility so we can colour our windows and doors, with fast lead times too!
Our inhouse Glass Toughening Plant produces over 3,500 glass sealed units a week. All of the windows and doors that leave our factory are guaranteed to enhance a properties energy efficiency, security and aesthetics.
Installers from across the country can also visit our Lincoln-based trade counter to browse through our stunning uPVC and Aluminium windows and doors. With Sternfenster, we also offer nationwide delivery, so our products are supplied quickly and efficiently.
We manufacture market-leading uPVC Windows and Doors using the Deceuninck 2500 and 2800 profiles. Giving our customers, and installers the peace of mind they are getting a high-quality and durable addition to their home!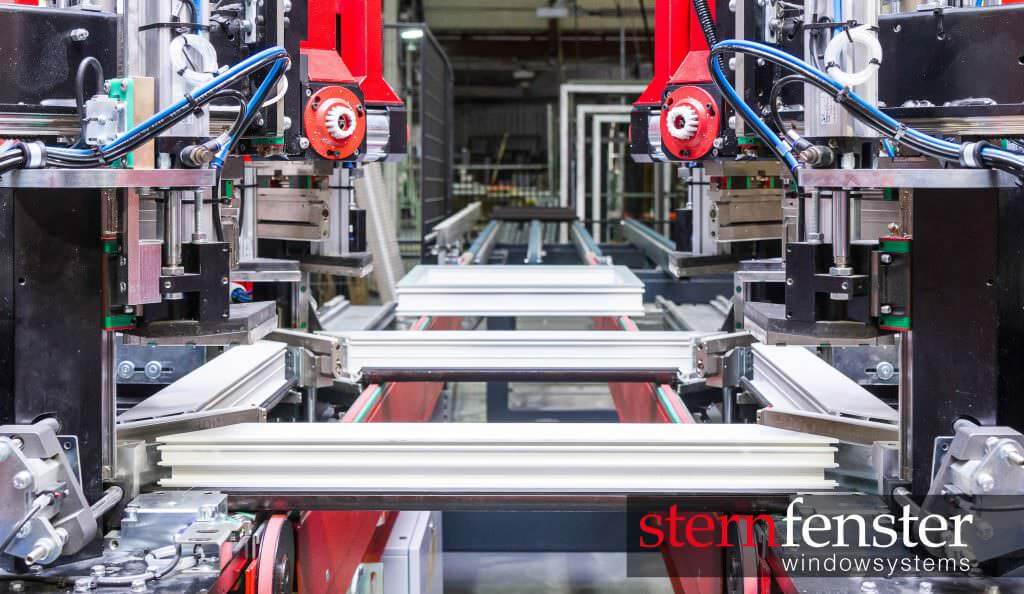 Sternfenster Approved Installer Network
We have an excellent Approved Installer Network which allows installers from across the country apply to the programme. There are many benefits of joining our Installer Network, including;
Excellent Warranties – 20 years on sealed units, 12 years on PVC profiles, and five years on hardware
Get More Leads – Quality quote engines, online conservation tools, a dedicated area of operation, and access to a lead management dashboard
Industry Leading Marketing – Websites, SEO and PPC, E-Shot Campaigns, Social media management and branded videos
Excellent Security Guarantees – up to £2000 security guarantee, £1000 towards a security breach, and £500 towards excess claims (T&C's Apply)
Our Approved Installer Network ensures that installers get excellent levels of support, access to marketing materials, and increased leads. But it also helps homeowners find a trusted, and experienced Sternfenster Installer. Giving them the peace of mind they are choosing an excellent company to work with for their home improvements.
We launched the Approved Installer Scheme in 2016 with just five members. Our Approved Installer Scheme has increased year on year to 47 members in July 2019. We are continually adding benefits to help customers sell more. We have hosted several customer open days, the latest in April 2019. To give new and existing customers the chance to tour the factory, and see the most recent initiatives to help them win customers.
Investing in our People
Here at Sternfenster, we firmly believe that our staff are the driving force behind the success of our business, which is why we invest in our people. We ensure to have excellent employee engagement and communication. We ensure to have daily meetings, incentivised suggestion scheme, community and charity work, body image and mental health initiatives.
We also ensure to have an in-depth recruitment and training process, so our Sternfenster family are fully trained and confident when it comes to their work. We have been re-writing all internal training documents with a focus on consistency, running management workshops focusing on leadership skills, made improvements to onboarding programme for new starters, and improved the recruitment process efficiency.
---