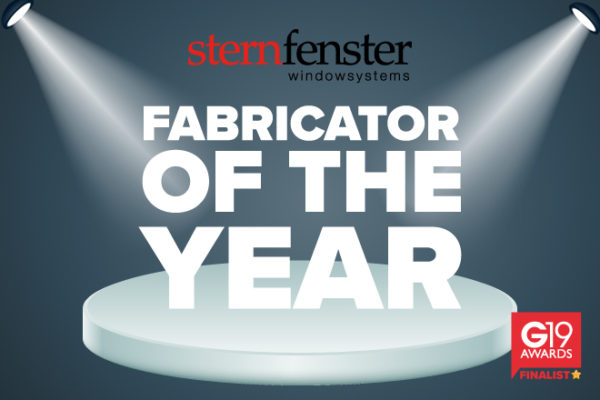 Published 1st October 2019 by Sternfenster Categories:
Updates
---
Sternfenster are delighted to announce that they are nominated for Fabricator Of The Year!  On the 29th November 2019 Sternfenster will be at the G19 Awards to celebrate the best the glazing industry has to offer. For over 40 years, Sternfenster have been committed to offering superior quality products, so they are highly deserving of this recognition.
Sternfenster have recently invested £3.5 million in a state-of-the-art aluminium factory. They were the 1st fabricator in the UK to offer a seamless weld on all uPVC windows and doors, setting the standard for innovation. This year their new powder coating plant also comes on line. Considering these accolades and expert teams with over 150 years of collective experience, the award has been on the horizon for many years.
To see for yourself why Sternfenster can lay claim to the title of Fabricator Of The Year, take a look at their impressive corporate video. This short film shows the fantastic benefits that Sternfenster boast. From their commitment to perfection, with 20 point checks of every product, to cutting-edge technology, the reasons to choose Sternfenster are endless.
Despite their nationwide renown, Sternfenster have not lost sight of their original values. They continue to be a family-run and customer-orientated business. Unlike some large companies, excellent service remains their number one priority. Sternfenster are dedicated to short lead times, so that their installers can satisfy even more customers. Grow your business with one of the best fabricators in the UK.
Work with one of the top 5 fabricators in the UK and become part of the Sternfenster Approved Installer Network. Get in touch today to find out more! You can either email Sternfenster on sales@sternfenster.co.uk or call them directly on 01522 512 525. One of the team will be more than happy to help!
---