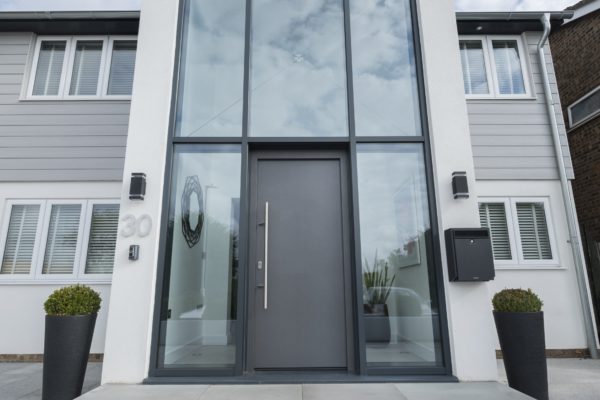 Published 16th February 2022 by Sternfenster Categories:
Doors
---
Contemporary aluminium front doors are becoming more popular by the minute. If you're looking for a new front door, then you might only be thinking about whether you should choose uPVC or timber designs. However, both can feel like a compromise – uPVC is more durable than timber but doesn't have as much strength, while timber wears down more quickly, especially in poor conditions. Aluminium front doors, though, have the benefits of both with the drawbacks of neither.
Contemporary aluminium front doors are some of the strongest entrances available on the market today. It's because aluminium is a material with lots of natural strength, meaning doors with these profiles are more secure, durable, and more likely to stand the test of time. Not only that, aluminium doors now don't have problems with thermal efficiency. With thermally broken profiles in our doors as standard, your new entrance could trap pockets of warm air inside your home without letting them escape.
At Sternfenster, we've brought contemporary aluminium front doors to homes across the country. Designed with the UK's best aluminium profile from Smart, our aluminium doors are thermally efficient, sleek and stylish, as well as being fully customisable. You can also install them quickly and for low prices when choosing a local installers from our Approved Installer Network. Find your installer today using our straightforward search tool to get your quote in minutes!
Why Are Contemporary Aluminium Front Doors Becoming More Popular?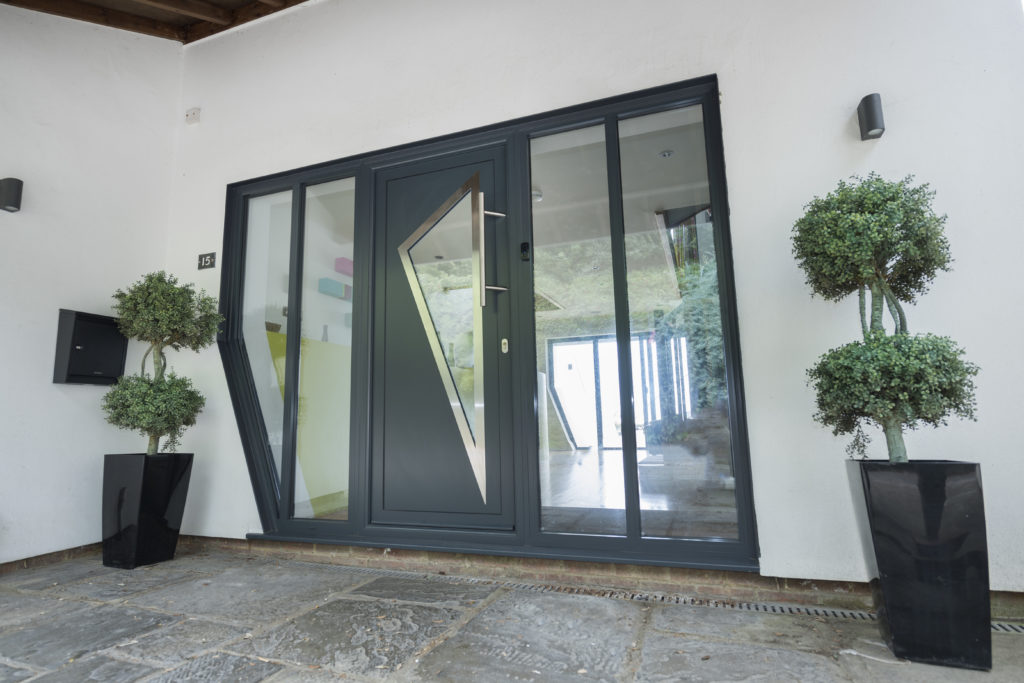 Efficiency
One of the main problems older aluminium front doors had was thermal efficiency. Unlike timber, a natural insulator, aluminium is a metal that conducts energy, meaning that cold and hot air used to be more likely to affect your home. However, Sternfenster's contemporary aluminium front doors come with leading profiles from Smart that challenge that convention. It's because they use thermally broken profiles, meaning they can capture more of your home's natural heat.
Our aluminium doors retain heat you use inside your home while not letting in outside air. As a result, you'll have good insulation that lasts all year round, meaning the temperature in your living space will always be stable and comfortable. You won't have to rely on your radiators to stay warm, either, meaning you can enjoy your home while spending less on your energy bills. And, with less energy used, contemporary aluminium front doors will help you reduce your carbon footprint.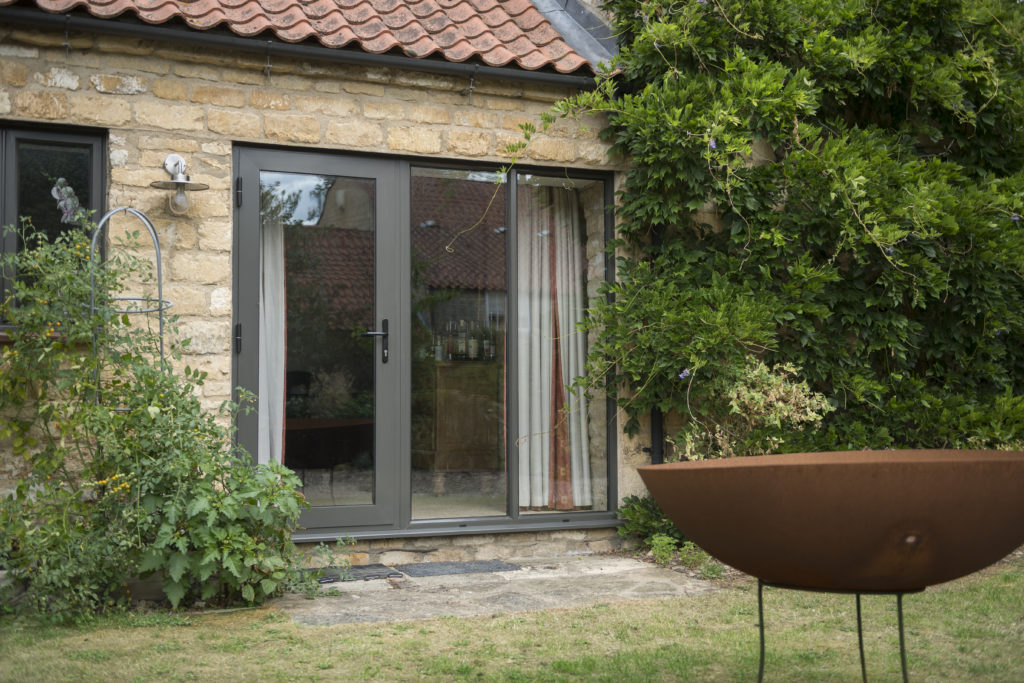 Security
However, aluminium doors have always been renowned for their impressive security. With our contemporary aluminium front doors, we've made sure to cut no corners to help you keep you, your family and the things that matter to you safe and sound. Our aluminium residential doors are almost indestructible, with an impact-resistant frame that will resist almost any forced-entry attempt into your home. Because of this, your door will have superb strength, keeping intruders out.
If someone tries to break into your doors another way, they'll find even more security measures. Our contemporary aluminium front doors feature a range of advanced security measures, meaning that the whole door is protected across the frame. Our systems feature multipoint locking systems, while the door sections and hinges are reinforced to create a stronger profile. As a result, our contemporary aluminium doors are sure to give you peace of mind and protection that lasts.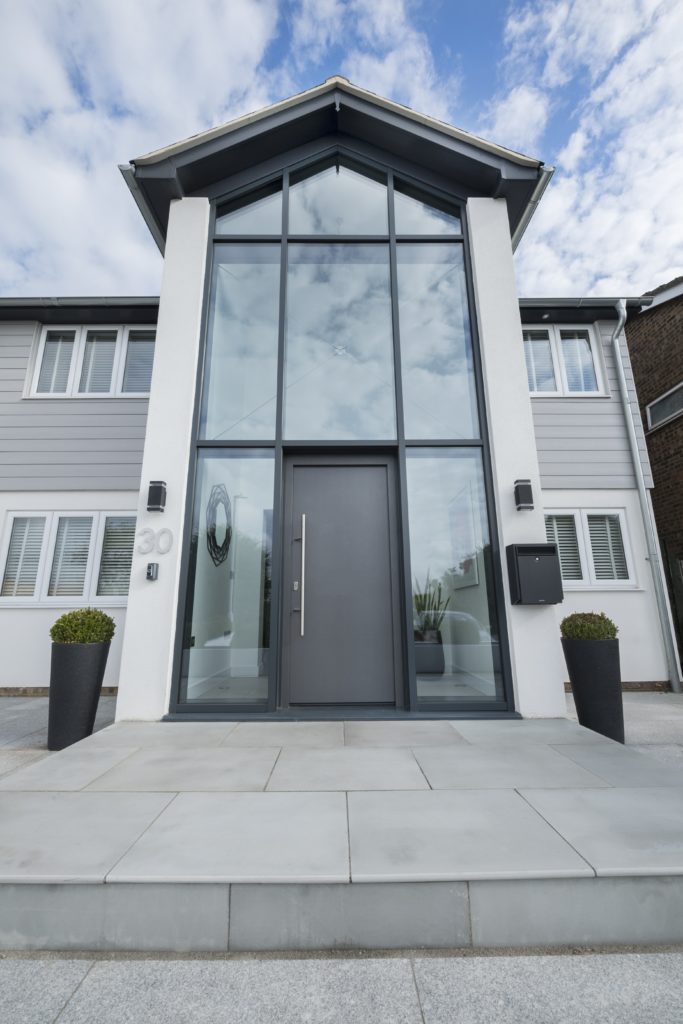 Durability
Finally, contemporary aluminium front doors won't just be popular now – they never go out of style. It's because the doors you see on your street decades from now will still be the same doors that you'll install today. Aluminium is a durable material, and your new front door will be fully weatherproof to make sure that wind and rain won't be able to cause any damage. Our air and water-tight aluminium front doors can last for as long as you call a house a home, without the hassle of regular maintenance.
While timber doors need repainting and revarnishing, and uPVC doors begin to become weak, our aluminium doors will still perform as they did on day one, years into the future. Not only that, you can order powder coated aluminium doors from Sternfenster – they have a unique finish to make your design last even longer. We can coat your doors in over 250 RAL colours, and the finish will ensure they don't suffer from damage or discolour. Because of this, you'll get an entrance that's built to last when you choose contemporary aluminium front doors.
Contemporary Aluminium Front Doors Prices
You can get contemporary aluminium front doors for competitive prices today with Sternfenster. We offer market-leading designs across the UK, and they can come with fast lead times, in-house powder coating, and full customisation to put you in complete control of the design. You can also take control of who fits them, as we have an Approved Installer Network that covers the whole UK to help you find a fitter near you. Choose your installer using our search tool today to get your new doors fitted by a team you can trust.
---