---
Are you as tired of the winter weather as we are? With Spring not too far around the corner, you can get ready for a more colourful season with our brand new water based colour finishes. Our wide range of topcoats are available in just a fifteen day lead time – less than half the average turnaround time for coloured uPVC frames!
Offering your customers high quality products in a short space of time has never been easier with Sternfenster's fantastic, bespoke finishes. Our in house paint spraying facility means we can offer any of our PVC products in whichever colour your customer might desire. Furthermore, while being able to offer any standard RAL colour on our products, we can also match a limitless selection of colours so long as we are provided with a sample!
Within our paint spraying facility, we use the highest quality pigments to ensure that the colour stays looking phenomenal for a minimum of 10 years and has a total life expectancy of over 30 years. This means you can deliver exceptional products to your customer's offering a lifelong home improvement solution.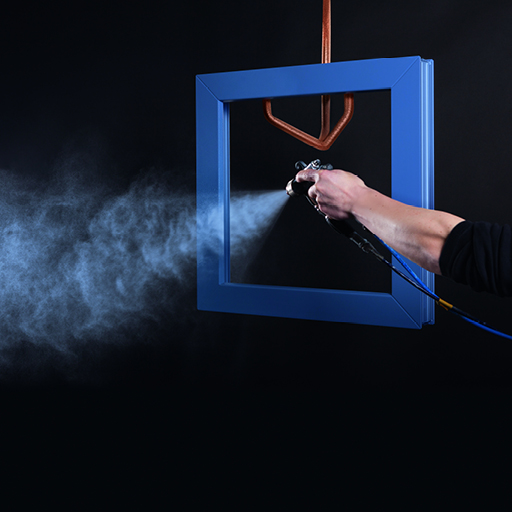 Our outstanding water based colour finishes are fully compliant with all legal regulations and deliver exceptional performance. So much so that the performance has been AAMA 615-05 certified, an extremely rigorous criteria that PVC coatings are tested against. We know that the British weather can be unpredictable throughout the year. Therefore, our PVC finishes are created with anti-heat technology with no risk of flaking or peeling, regardless of the weather or temperature.
We are committed to ensuring that our products are safe for consumers and the environment. Therefore, we only use water based coatings that have no solvent fumes, heavy metals or other chemicals of concern. Furthermore, our process creates no harmful waste. This means our products deliver no negative impacts on the environment so your customers can rest assured that their new installation is environmentally mindful.
If you'd like to reap all the fantastic benefits of Sternfenster's new water based colour finishes, why not become part of our Approved Installer Network? Get in touch with us today to find out more! Please feel free to email us on sales@sternfenster.co.uk or give the team a call directly on 01522 512 525. One of our friendly experts will be able to give you all the advice you need!
---