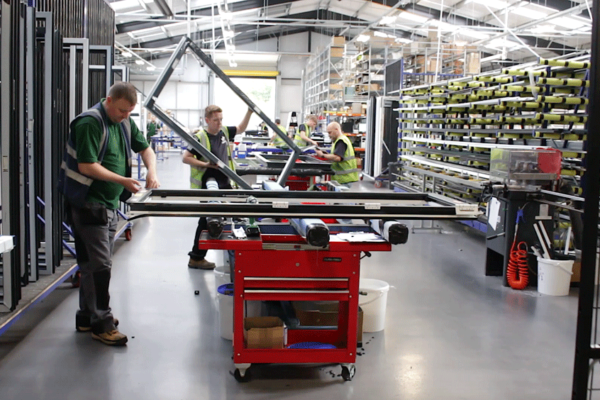 ---
We have appointed 30 new members to our manufacturing team in less than three months as part of our strategy to rapidly build capacity in response to the exponential growth in demand seen for windows and doors this summer.
Accompanied by continuing investment in plant and machinery, the new posts gives us immediate new flexibility within our operation, plus support our strategy for long term growth.
Mike Parczuk, Managing Director, "Our focus has been to invest and bring a high degree of automation to our manufacturing capability. This gives us the flexibility to switch-on increased capacity as we need it.
"The limiting factor on that capacity is people. There are jobs that can't be done without them – however, advanced your operation is.
"With our team fully back from furlough in June, it became clear that we were going to need to recruit to meet demand, which we've been able to do successfully and importantly, inline with our plans for longer term growth."
This and our partnership with Deceuninck, Mike said, had meant that Sternfenster had in large, been able to maintain lead times on foiled products.
Manufacturing Deceuninck's 2500 Heritage chamfered and 2800 sculptured systems, plus our Heritage Flush Casement, these are available in 30 colour options, plus from Sternfenster, in a StyleLine Graf seamless-welded finish.
"I'm not going to tell you that we came through completely unscathed, because we were", Mike continued, "but our profile supply chain for the most part held up and with the capacity gains that our recruitment strategy has given us, we were able to maintain supply on foils within what I believe were pretty reasonable time frames."
While building our headcount, we have also continued to invest in machinery. This includes a six-figure investment in a new Schirmer ALU BAZ Composite Orbit-C machining and cutting centre and a FOM Ever Theta Crimping Machine.
"We're investing in people but also machinery" Mike explained. "We don't want to use them for cutting prepping, crimping because people – because they are people, and not machines – don't give you the consistent product quality that we're looking for.
"The Schirmer brings exceptional quality right to the start of our aluminium manufacturing process. The Ever Theta Crimper, which will come in later this autumn, gives us the same consistent quality, while further expanding our aluminium capacity.
We committed to a £3.6m investment in a dedicated aluminium manufacturing facility in 2017. With a 30,000 sq ft shop-floor footprint, plus 10,000 sq ft of office space, this includes its own powder coating line.
This and our recruitment strategy, meant that we were also able to maintain lead times on our Smarts bi-fold and inline sliding door offers.
"We don't expect demand to stay where it is – but we do expect growth overall, to continue into next year, and we have a strategy in place for that, which includes investment in machinery but also people.
"We remain a family owned and run business, and the people who work here define who we are. You can have the best machinery or products in the world but if you don't underpin that with the right service, you aren't going to get very far."
---