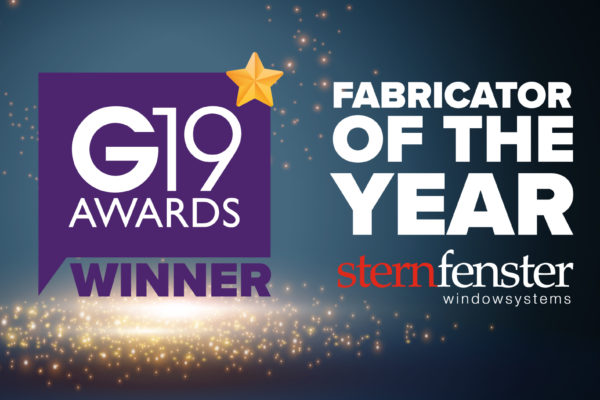 ---
Get 2020 off to a flying start by using the best in the business. Sternfenster are proud to hold the title of 'Fabricator of the Year'. This award means that you couldn't ask for a better company to launch the next decade of your business with.
Partnering with this award-winning fabricator means you'll enjoy superior quality. You can rest assured that your customers will be thrilled with high performing, visually appealing windows and doors. With a £3.5 million investment into their state-of-the-art aluminium factory and the market leading products this produces, it's no surprise that Sternfenster have been declared the top fabricator in the industry.
To experience even more of the benefits offered by the 'Fabricator of the Year', join Sternfenster's Approved Installer Network. You'll gain access to exclusive guarantees, media and lead generation tools. Best of all, they require no input from you; Sternfenster will take care of everything! You can simply sit back and enjoy their unbeatable perks.
Sternfenster make generating leads easier than ever. If you join the Installer Network, you'll benefit from a branded sub-site on the Sternfenster website. To make this even better, when homeowners search for an installer in their local area, Sternfenster will suggest you. This makes it easier and faster for you to connect with customers who are genuinely interested in your services. It's all part of Sternfenster's commitment to helping you help homeowners.
Both installers and homeowners can feel greater peace of mind with the Sternfenster Secure Plus guarantee. This covers Approved Installers in the unlikely event that an intruder breaks into a home due to a failure of Sternfenster hardware. Sternfenster will provide up to £2,000 to help installers support the homeowner.
Leave installation stress in 2019 with Sternfenster's handy how-to guides. With these step-by-step instructions and helpful hints, fitting products is easy and straightforward. From removing tilt & turn windows to assembling a bifold door, impress your customers with fast installation. Approved Installers can enjoy unlimited access to these guides, along with useful brochures and marketing materials, by logging into an exclusive portal on the Sternfenster website.
If you're tempted by the excellent benefits of working with Sternfenster, then don't hesitate to get in touch! Start your 2020 off right by emailing sales@sternfenster.co.uk or filling out an online contact form. A member of our friendly team will be more than happy to help.
---