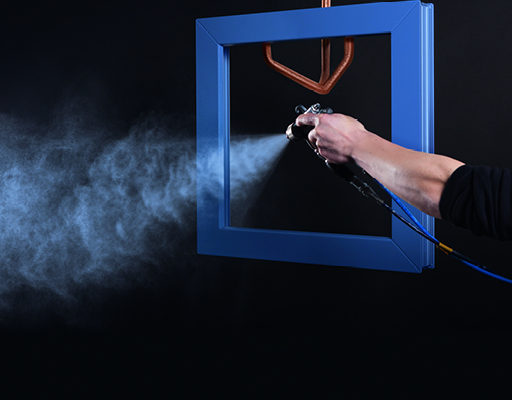 ---
We have launched a new ultra-tough water-based spray-painting service, with the ability to spray PVC-U products to any RAL colour – in less than half the average turnaround time on foils.
Introduced earlier this year following significant investment in our in-house spray-painting facility, our new offer uses a leading-edge solvent-free paint system.
Specially formulated for PVC-U window and door frames, we employ heat resistant nano technologies to guarantee surface stability and through-life performance.
This is further enhanced through manufacturing using Graf zip-welding technology, which retains sprue inside the frame during welding, significantly enhancing corner strength and delivering a high-precision 'seamless' finish.
Combined, it means painted PVC-U frames from us are available in as little as 15-days (less than half average lead times on non-stock foils), while the high-performance satin finish has an expected service life of more than 30-years – and is guaranteed, for 10.
Mike Parczuk, Managing Director, said: "If you look at the market for colour, the greatest growth is coming from smooth finishes. There's been a move away from some traditional woodgrains and people want to match into aluminium.
"If we're selling an aluminium bi-fold, nine times out of 10, it's in Anthracite Grey, and if we're supplying windows in a PVC-U foil finish, it's smooth – people are looking to match in aluminium and PVC-U as part of a hybrid sell.
"It's choice of colour and lead times which are driving this market. Woodgrains have their place but with the increased reach of aluminium, smooth finishes are gaining market share."
Whilst we can colour match any RAL finish, our new offer features eight in-stock colour profiles available for rapid delivery.
This includes highly popular Agate Grey; Anthracite Grey; Blue Grey; Light Ivory; Pebble Grey; Pigeon Blue; Platinum Grey; and Slate Grey, available in only 15-days.
This is available across our offer, including casements, tilt-and-turn and vertical sliding windows, and residential and French doors. We can also colour match ancillary products as required.
"We've tried to be as practical as possible about what we're offering", Mike continued. "You can have almost any colour under the sun but in our own experience of retail, you can overwhelm the end-user.
"Holding a range of contemporary colours in stock, Agate Grey, Pebble Grey and Anthracite in stock, means that we can reduce lead times to a minimum; our customers can match into the most popular finishes and offer installation on a significantly reduced lead time.
"It's very clear since being back from lockdown that lead times are increasingly important in winning new business. If you can turnaround an installation in half the time, you can put money back into your business twice as fast."
---