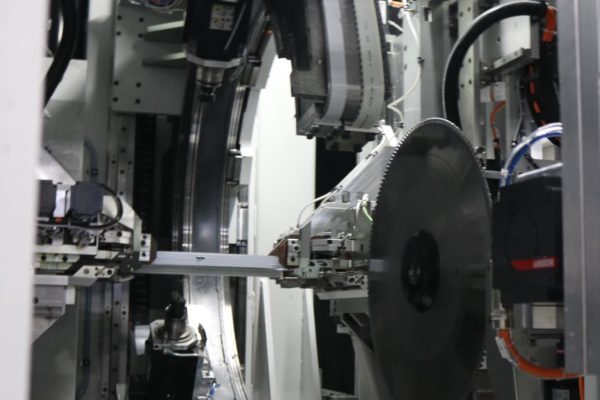 ---
We are delivering an industry leading service on aluminium thanks to significant investment in machinery over the last 12 months – including five-day lead times on our Alifold bi-fold and Alitherm 300 window.
"We are experiencing ongoing, strong demand for our aluminium offering," says Mike Parczuk, Managing Director. "We were exceptionally busy throughout 2020 and that's carried through into 2021 thanks to the additional Covid restrictions at the start of the year.
"However, despite the order volumes, our capacity for aluminium has allowed us to maintain highly competitive lead times across our product range," he continues. "For our Smart Alifold bi-folds and our Smart Alitherm 300 window, for instance, the turnaround is from just five days.
"That's a market leading offering, one that's been made possible, primarily, by our decision to take aluminium manufacturing in-house in 2017 – but it's also thanks to significant, ongoing investment to increase capacity and to further improve the quality and consistency of finished product since then."
At launch, our dedicated aluminium facility represented an outlay of £3.6m. At 30,000 sq ft, plus 10,000 sq ft of office space, it came complete with our own powder coating line and was filled with state-of-the-art equipment, including a FOM LMT65 cutting and machining centre.
In the last 12 months, we have spent further, six-figure sums on additional machinery, including a Schirmer ALU BAZ Composite Orbit-C machining and cutting centre and most recently, a 4-head Ever Theta frame crimping machine.
In addition to offering rapid and extremely precise cutting and milling of bar length, the ALU BAZ Composite Orbit-C also features an advanced machining module. By combining linear and rotary movements along eight axes, so that drilling and milling tools always take the shortest path around the bar profile, it serves to increase the speed of manufacturing throughput.
The 4-head Ever Theta also plays a big role in improving our volume of output by cutting full cycle times to as little as 2 minutes and 31 seconds. In comparison, a traditional single head crimper would take roughly twice as long to complete the same task.
This increase in speed of production is made even more impressive by the fact that the 4-Head Ever Theta manages to combine that high output with exceptional levels of accuracy.
Using profile scanning technology, it can detect if profile is out of tolerance by as little as 0.4mm in length or 0.9mm on the diagonal, a feature that helps to ensure a very high standard of finish on 450 mitre and 900 joints.
"Demand for aluminium continues to rise and considering the outlook for 2021, with an extension to the Stamp Duty holiday and fresh support for first time buyers in the latest Budget, we can't see it slowing anytime soon," says Mike.
"That's good news for the industry, but it's also going to put additional stress on the supply chain at a time when it's already under a lot of pressure. Installers should be able to rely on their suppliers to deliver consistently high-quality product, on decent times, if they are expected to make the most of these market conditions," he continues.
Mike adds that our investment in automation for the aluminium factory, and also in our PVC-U facility, has allowed us to raise the bar in customer service. This includes the introduction of Sternfenster Plus, an online portal that gives our installer customers access to a range of features such as quote, order and delivery status, news updates and downloadable marketing and training assets, as well as a live production capacity feed.
"Our production capacity feed, which can be viewed in real time, gives us a fantastic opportunity to communicate more efficiently with our customers by giving them a unique insight into our manufacturing processes," explains Mike. "We're giving them complete visibility of our production schedule, they can see from the moment they place an order, when to expect slightly longer lead times on certain products.
"Sternfenster Plus has allowed us to demonstrate the effectiveness of the investments we have made in aluminium machinery," he concludes. "We've increased capacity and introduced higher levels of quality at the same time. It means our customers are going to be very well placed to take advantage of anticipated demand going forward."
---