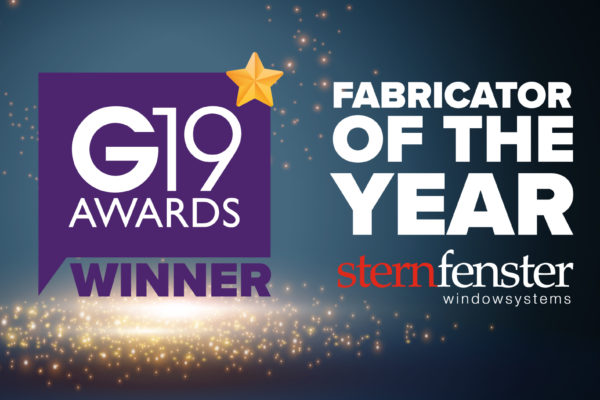 Published 2nd December 2019 by Sternfenster Categories:
Updates
---
Sternfenster are thrilled to announce that the business enjoyed a successful evening at Friday's G19 Awards. Perhaps the company's biggest victory to date, Sternfenster have officially been named as 'Fabricator of the Year' at this year's prestigious ceremony, held on the 29th November in Central London.
Sternfenster are humbled to have been recognised for their hard work as a trade supplier and fabricator. Having worked day and night to stand out from the crowd, Sternfenster are delighted to have been awarded for their work in what is a densely populated and incredibly talented corner of the home improvement industry.
In 2019, Sternfenster put an extensive amount of effort into improving each stage of the manufacture and supply process. In doing this, they aim to make the process of working as a member of the Sternfenster Installer Network that little bit easier as each year passes.
The company has recently invested some £3.5 million into the building of an industry leading aluminium factory. With this, the ever-popular aluminium windows and doors that are on offer will be of an even higher quality and could be available on faster lead times.
In addition to this, 2019 saw Sternfenster open a brand new powder coating plant. While many fabricators need to outsource for their topcoats, Sternfenster can now complete the full process in-house. In doing this, quality control is improved, and lead times are trimmed further.
On the other side of things, Sternfenster have worked meticulously to improve the marketing materials and digital support that are becoming synonymous with the Approved Installer Network. Installers now have access to detailed installation guides, videos and social media content for a wide range of products, making their job that little bit easier.
2019 also saw Sternfenster release more product videos, this time focusing on the stunning flush sash products introduced as part of the StyleLine range. Homeowners now get a better look at the quality products on offer when they choose a registered Sternfenster Installer. This is unlike anything they'd receive with a competitor and goes some way to explaining Sternfenster's success at this year's G-19 Awards.
The planning for 2020 has already begun, with Sternfenster keen to continue their efforts going forward. Plans are already in place to introduce a new Alitherm 300 product to the aluminium windows range at the turn of the year, along with their planned training academy in quarter one, with plenty more planned for later on in 2020.
Whether you're a homeowner or an installer, keep your eyes peeled to see what the next step is for Sternfenster by following the Twitter and LinkedIn channels. If you have any questions about Sternfenster's services, please leave your details on the online contact form on the website.
---