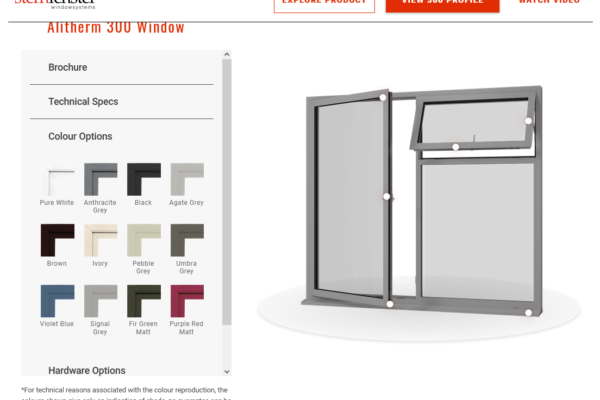 Published 7th September 2021 by Sternfenster Categories:
Updates
---
Sternfenster is developing a new, fully integrated online quotation package that is designed to offer its installer customers a complete, digital lead to delivery solution.
The new Proposal Builder system will allow installers to respond to online homeowner enquiries with a bespoke, digital quotation pack.
This can be personalised with individual company branding, and will include video, imagery, product information, accreditation certificates and customer testimonials.
Homeowners will then be prompted to book a survey, ask for more time to consider their options, pay a deposit or place an order, which they will be able to do online, at the click of a button.
Once they do, the order will be instantly transferred to Sternfenster's EasyAdmin CRM system, where it can be sent directly into production.
Nathan Court, Sales and Marketing Director, Sternfenster, commented:
"Our new Proposal Builder quotation system forms part of a complete online 'cradle to grave' service for our customers. We are continuing to innovate through a period of exceptional high demand, with ongoing challenges relating to material supply, price increases and extended lead times. Our new Proposal Builder is designed to take the pressure off our customers, by integrating seamlessly with our EasyAdmin CRM system.They will be able to capitalise on website lead generation with a comprehensive, professional quotation package that can process orders directly into our production line. It will save on time and administration and it means installers will be able to focus purely on the day to day running of the business."
Proposal Builder, which will also include Sternfenster's new CGI virtual showroom, will be the latest in a series of digital innovations from the Lincoln based fabricator. These include Sternfenster Plus, which includes a regularly updated news feed, a live production capacity feed, the ability to track the progress of orders and deliveries and downloadable marketing and training material.
"We are anticipating the current levels of demand to continue for some time yet," concluded Nathan.
"The introduction of our Proposal Builder quotation system will take the pressure off installers by giving them a simple, intuitive and highly effective way to adapt their business model and become more efficient."
---