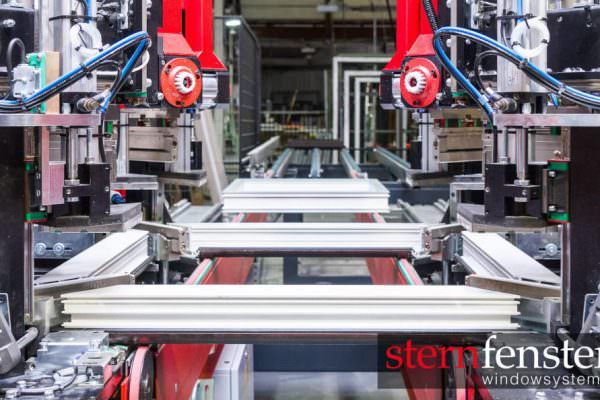 Published 28th January 2016 by Sternfenster Categories:
Updates
---
fGrow With Sternfenster
"Grow with Sternfenster" is a new initiative from the Lincoln-based fabricator aimed at helping small installers scale up their business and become a recognisable local brand. We talked to national Sales Manager, Steve Lane, to find out more about how Sternfenster is enabling white van fitters to turn the tables.
"Many of our larger accounts today are installers who have started working out of the back of a van, and have grown to open their own premises and even showrooms," said Steve.

"This comes to show that with the right support from your supplier, and competitive trade prices that will allow you to make enough margin to be able to reinvest in your own business, ambitious installers can become the 'go-to' double glazing name in their area."

"Our customers' success has fuelled our own results over the past couple of years, and we became determined to build on this type of organic growth. This is why we're now extending our support offer to all small businesses wanting to achieve more, and we've rolled out a series of new measures to help them do so."
Buy Direct for Better Margins
One of the biggest challenges for a fitter doing anywhere in between 1-25 frames/week is to actually source their windows and doors from a major manufacturer.
Steve said: "Either due to their own inefficient processes, insufficient resources, or simply because they tend to prioritise bigger orders, some fabricators generally take longer to come back with a quote on small enquiries, pushing installers to buy frames from the 'middleman', and make smaller profits as a result.

"Our campaign is meant to let installers know that, regardless of size, they will get the same quick response and great customer service from Sternfenster. As our clients, they can benefit from online quoting and ordering through our Easy Admin feature, which also enables installers to manage their entire business more effectively."

"Our weekly deliveries can be tracked online in real time, and installers can even choose a two-hour slot to receive their products, meaning they won't have to wait around the whole day for their delivery."
The Easy Admin facility is part of the fabricator's online resource for customers, Sternfenster Plus, which is also packed full with free marketing support available to download and utilise, such as adverts, brochures, drop cards, unique imagery and more.
Installers can create their own customised retail quotes and email the client straight from the system. Sternfenster Easy Admin also allows them to generate reports that help identify areas for improvement within their business.
A True One-Stop Shop for Customers of all Sizes
Sternfenster offers a very comprehensive range of products, all of which are manufactured in-house.
Their products include: Deceuninck 2500 & 2800, as well as the popular Slide & Swing door, Smart Aluminium frames, including bi-folds and shop fronts,f Spectus vertical sliders, DoorCo and Solidor composites, IGUs, and the exclusive range of timber-look windows and doors, StyleLine.
"Whether you need white PVC-u, or high-end frames, we can supply a vast array of products in any size, configuration and colour – we have our own paint spray booth and glass toughening plant, meaning we're highly flexible in terms of meeting virtually any requirements," said Steve.

He added: "As for the quality of our products, we regularly invest in new machinery and training for our staff, and we have an excellent quality control check in place to ensure every frame that leaves the factory is first-rate."

"In addition, as one of the largest and longest established fabricators in the UK, we also have the volumes to maintain our trade prices at a very competitive level."
A Personal Touch
Changing suppliers it's often easier said than done, so how is Sternfenster going to ensure a seamless transition for new customers? Steve explains: "We provide personal customer service managers that will guide new clients through the whole process of buying from Sternfenster.
"Small installers turning to us also benefit from dedicated business development managers who take the time to learn everything about our customers' businesses, and offer advice and guidance when needed."

"These are very experienced people, who have an impressive track record of helping retail businesses succeed, and will pro-actively look at the new accounts and offer their expertise," said Steve.

"Ultimately, by helping our customers grow, we make sure we have the necessary volumes to achieve our own targets. We focus on building long term relationships with our customers, which is why we constantly look at new ways to add value to our products and services," concluded Steve.
---