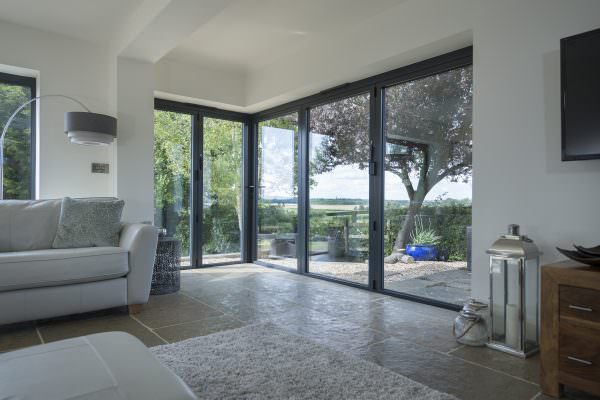 ---
Ventilation During the Day, Security at Night
Looking for a set of external doors that deliver the perfect summer performance? Sternfenster manufactures a range of high performance aluminium bi-fold doors that make for a fantastic investment this summer. These wide-spanning aluminium doors work using innovative folding panels and are fitted with the latest home improvement technology.
During these warm summer months, you want your home to feel cool and well ventilated. Sternfenster bi-folding doors can be open half-way or fully depending on the needs of your home, with a slim frame and no central column allowing more of that natural breeze to flow through without obstruction. With this, they are the best renovation for keeping your home at the optimal temperature.
However, you don't need to worry about compromising on your home security when you invest in a set of Sternfenster's aluminium bi-fold doors. They all come fitted with secure locking systems around the frame that ensure the entire door has as few weak spots as possible. This ensures that the home security is enhanced, rather than reduced.
These Sternfenster aluminium bi-fold doors are constructed using Smart grade aluminium. They are renowned for producing some of the toughest and most modern aluminium frames on the market today, which are offered in the form of their Visofold 1000 profile. Aluminium has superb inherent rigidity, allowing it to remain durable for longer, protecting a customer's family and home.
Sternfenster's aluminium bi-fold door range can be fitted to both the house's original architecture and to an orangery or conservatory. With the latter, they can open an extension into any outdoor living space and create the perfect summer room, seamlessly connecting home and garden through these stunning sunny months. It leaves you with the perfect ventilated social space.
If you're interested in installing these stunning aluminium bi-fold doors this summer, then get in contact with Sternfenster today. The nationwide delivery service means they work with home improvement specialists up and down the country. To get in touch, forward your details onto sales@sternfenster.co.uk to receive details as to how you can join their Approved Installer Network.
---