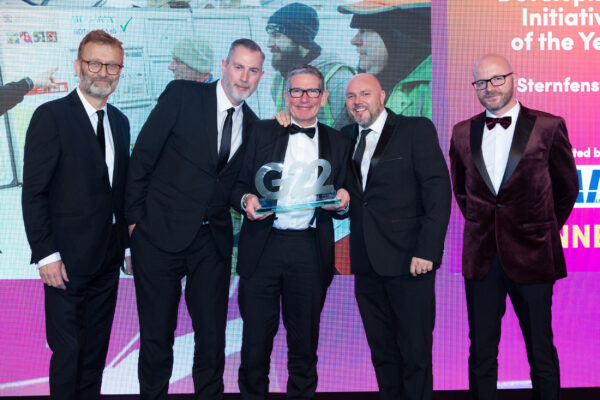 Published 6th December 2022 by Sternfenster Categories:
Updates
---
Sternfenster picked up the gong for Training & Development Initiative of the Year at the 2022 G-Awards. It's a massive win for our trade fabrication business, underlining our team's commitment to colleagues, and the importance we place on professional development.
Underpinning Sternfenster's entry in this category was our commitment to achieve a Gold Investors in People award, after being awarded Silver in October 2020.
Sternfenster achieved this goal in the weeks leading up to the G-Awards, thanks to a series of bespoke training and development initiatives we created – aligned with the IIP framework.
"All of us at Sternfenster are thrilled with the Training & Development Initiative of the Year award, because everyone played a part in winning it," Sternfenster managing director Mike Parczuk said. "People are the most important thing in any business, but they need to be empowered to make the most of their talents."
Sternfenster succeeded in reaching that goal by creating our Family Principles: a set of values that shape and underpin the actions, behaviours, and attitudes of everyone in the business as they achieve the company vision.
"Our colleagues are assessed on a regular basis to make sure that their goals are being attained and that's all within the framework of trying to achieve our wider vision," Mike said. "We know it works because we are hitting our key performance indicators, and our customers are more engaged.
"And I want to thank everyone at Sternfenster for all their hard work and commitment in turning this vision into a reality. While the Investors In People initiative came from the senior leadership team, all colleagues took ownership of it, and worked tirelessly to win the Gold Award.
"Winning the Training & Development Initiative of the Year G-Award has made it even more worthwhile, because it shows that our peers recognise that we are doing the right thing."
---