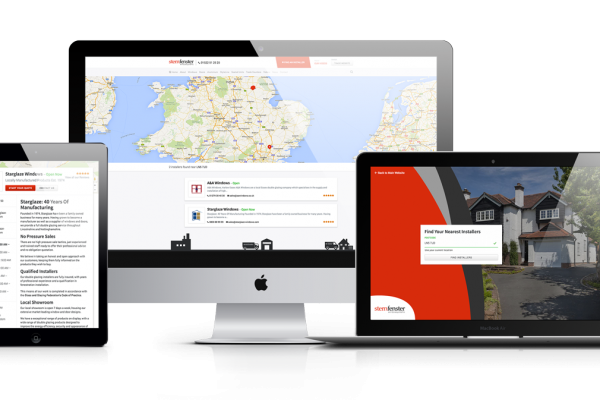 ---
The Sternfenster Approved Installer Network, a hub for home improvement specialists across the nation, offers a wide range of high quality and valuable resources to help companies grow their sales and reduce their after sales. One of these features is a branded sub-site, which is integrated into Sternfenster's main website.
These sub-sites have been intelligently designed for simple usability, complemented by clear and concise company information so customers can find out more and get in touch. To ensure all bases are covered, Approved Installer sub-sites feature company logo, company bio, telephone number, email, website, opening times, reviews and a Google map to pinpoint location.
The sites are found by following an innovative postcode location tool, which offers customers a list of their nearest Approved Installers for them to contact. Each site is tailored to the specific member, so brand ethos and voice are captured across the board. This offering is an indication that Sternfenster is investing in their customers, to help them grow.
Alongside the sub-sites, members of the Approved Installer Network can also enjoy a wide array of other benefits to help them increase their sales, their product offering, customer satisfaction, installation standards as well as reducing their after sales. This network has grown from strength to strength since it began, showing itself to be a fantastic option for their members.
Mike Parczuk, Managing Director of Sternfenster, explained his approach to the Approved Installer sub-sites:
"We wanted to give our members real participation in our Network, allowing them to enjoy the benefits that we offer in a way that is tailored to them. We understand that different installers have different demographics, approaches and expectations, which is why we offer the sub-sites as a personal platform for them to grow from."
Interested in joining the Sternfenster Approved Installer Network? Give us a call on 01522 512 525 or visit 'Join Our Network' for more information on how to join. A member of their friendly team will be more than happy to help.
---